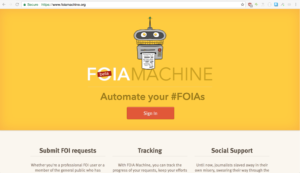 Python, Django (2012 – )
In 2012, I worked to develop a web application that would empower journalists to access public records through an automated process, dubbed the FOIA Machine.
Thanks to Kickstarter supporters and a Knight Foundation Prototype Fund support, FOIA Machine beta version was deployed in 2013, and the project became an official tool for investigative reporters used by Investigative Reporters and Editors IRE and National Freedom of Information Coalition (NFOIC) members.
Since then, nearly 2,000 journalists have become active users with hundreds of FOIA requests sent on a weekly basis. FOIA Machine partnered with journalists from more than 50 news organizations, including USA Today, The New York Times, the LA Times, New York Public Radio and The Marshall Project. This initiative brought several organizations together around the cause, including the Center for Investigative Reporting in Berkeley, Investigative Reporters and Editors, the Donald W. Reynolds Journalism Institute and members of the Investigative News Network, and eventually gained 2,071 backers who supported the campaign on Kickstarter.
This experience helped me to realize that innovative ideas are simply not enough, nor can technology alone solve the problems of journalism, though algorithms are necessary. Only by engaging broad and collaborative communities of users, industry leaders, news organizations, academia and the public sphere (crowd), we can create journalism projects that can make a difference.
My collaborators and supporters continued to run engagement campaigns around public records issues on social media, using the hashtag #FOIAFriday, in an effort to encourage journalists to demand government transparency.
In 2016, with fake news seemingly everywhere and government secrecy becoming the norm, FOIA Machine joined forces with MuckRock, and I joined the advisory board of Muckrock Foundation. The two platforms continue to operate to offer tools to help reporters, researchers, and the public file, track, and share their public records requests. Muckrock and FOIA Machine initiated the FOIA community on Slack, which has over 3,000 journalists. The channel works to help tackle new challenges that are being introduced – on an almost daily basis – by the new U.S. presidential administration.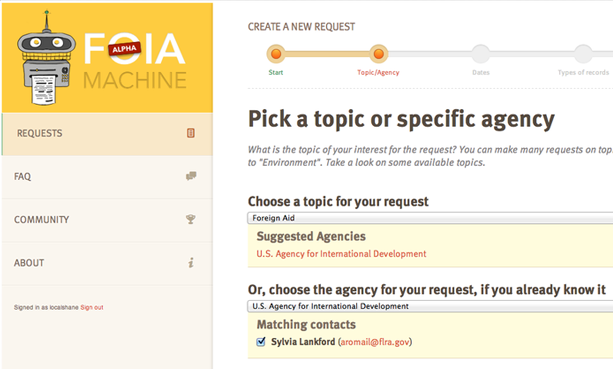 One of the most popular features of FOIA Machine letter templates based on a jurisdiction (the United States of America or the state or city name) and an agency (such as the Department of Justice). The platform provides an email address, mailing address, phone number, and FOIA officer's name and title, and automatically populates the template with that information.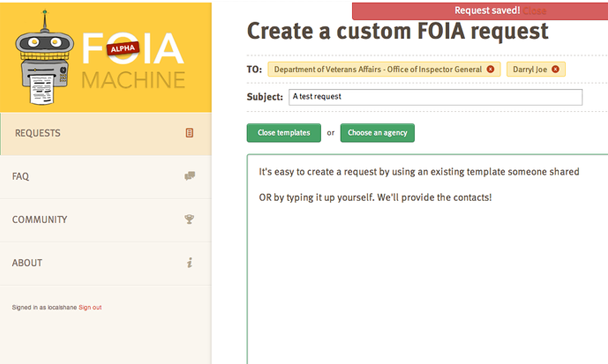 The key element is always to specify what you want, and the tool is providing useful and shared examples, and then will generate a letter reflecting the appropriate law with all the appropriate lines, and will then help track the filing process.
Media coverage:
THEY SAY FREEDOM isn't free. And that's certainly true of FOIA requests. Under the Freedom of Information Act, or FOIA, any citizen has the right to request non-classified documents from any agency in the executive branch. But if these requests are deemed outside the "public interest," agencies may charge steep fees to fulfill them. And even if your wallet is spared, the process will certainly eat into your time… https://www.wired.com/2013/07/foia-machine/
The FOIA Machine Will Simplify Your Right to Information, Mashable, July 2013
Filing FOIA requests is the stuff of nightmares. First the paperwork, then the waiting and the keeping track of it. And, if you're the kind of person who files many in a day, it can be a rabbit hole from which you may never return. To make the process less painful, the Center for Investigative Reporting (CIR) built the FOIA machine, for which it is raising funds on Kickstarter… https://mashable.com/2013/07/19/foia-machine/#6OWwk7TWciqt
This Machine Kills Government Secrets, Fast Company, August 2013
When a journalist wants to hold a politician accountable, The Freedom of Information Act (FOIA), a law that gives citizens access to certain information from the federal government, is there. FOIA itself is at the heart of countless stories, like the more than a trillion dollars in secret loans from the Federal Reserve to the U.S. West's long, expensive wildfires. And even where the act itself isn't directly involved, it often sheds light obliquely–whether through the state-level sunshine laws that followed its passing, or the general presumption it helped establish that what government does should be visible to the people it represents… https://www.fastcompany.com/2682767/this-machine-kills-government-secrets