Djordje Padejski's Teaching Philosophy >>>
Stanford University
CS 206/COMM 281: Exploring Computational Journalism – class website: https://ecj.stanford.edu/ 
This project-based course explores the use of data science, information visualization, artificial intelligence and emerging technologies to help journalists discover and tell stories, understand their audience, advance free speech and build trust. Students form interdisciplinary teams to tackle some of the most urgent challenges facing journalism. I co-taught this course with Computer Science Professor Maneesh Agrawala, director of the Brown Institute for Media Innovation at Stanford and Serdar Tumgoren, a former data journalist at The Associated Press and associate director of the Big Local News project at Stanford.
2021: The students worked on seven ambitious projects that include tools for navigating audio archives, detecting news leads in government meeting videos, making news quizzes, and reporting on user-tracking online.
What is Computational Journalism? Interactions among journalists, software developers, computer scientists and scholars will continue to evolve the answer to that question in the years ahead. For now, though, we define it as "the combination of algorithms, data, and knowledge from the social sciences to supplement the accountability function of journalism." — "Accountability through Algorithm: Developing the Field of Computational Journalism". Another dimension focuses on "changing how stories are discovered, presented, aggregated, monetized, and archived." — "Computational Journalism". Although computational journalism builds on and incorporates elements of computer-assisted reporting and data journalism, the evolving field often involves larger data sets and more sophisticated algorithms. Recent advances center on reporting by algorithms, about algorithms, and through algorithms.
EARTHSYS 190: The Multimedia Story – Syllabus
Stories are how we understand ourselves and the world. This course teaches how to plan, research, report and produce a long-form, rich-media science/environment feature story. Students work in groups or individually to master the blending of text with data analysis, visualization, photos, audio, and video. Teachers are experienced digital journalists at leading national and international publications with a close eye on trends and innovations in online, investigative, and data journalism. Using the landmark New York Times story Snow Fall (http://nyti.ms/1eTyf2Y) as a departure point, the course examines the questions: how do we engage and inform the public around critical environmental topics? How do we explain complex and sometimes hidden factors shaping the future of our world?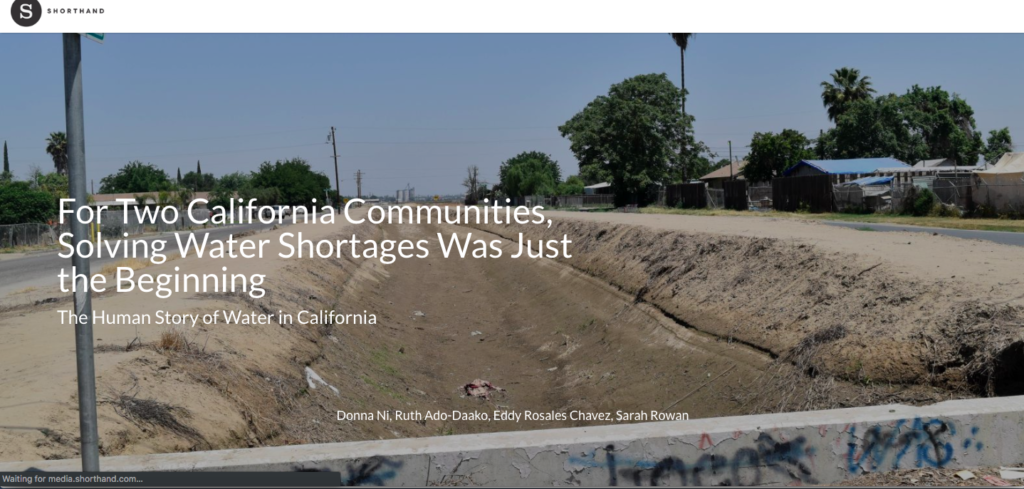 Class 2018 produced several web projects including this one focused on two communities in California, Monterey County and Matheny Tract, and their drinking water issues. In this case, students used Shorthand platform, and preview of their project is accessible here: an example of the student group project
A student feedback:
"You took so much personal investment in our projects and I want to thank you for a really phenomenal and eye-opening class. The lectures were expertly crafted, funny and interesting. Your comments from so many years of experience about ethics, craft, technique, pitches were so needed. Thank you for your unbridled enthusiasm for journalism and a really meaningful academic experience!! It is much appreciated by all of us."
Stanford University Pre-Collegiate Summer Institutes, International Relations and The Global Economy (2015, 2016, 2017, 2018) – instructors design custom courses that provide a deep dive in their area of expertise and highlight new areas of research. The ratio of instructional staff to students is approximately one to five.
Guest speaker at various classes at Stanford University, such as journalism courses, media entrepreneurship political science and sociology.
Guest speaker at Santa Clara University, UC Berkeley, Faculty of Political Science (Belgrade), Faculty of Philosophy (Novi Sad).
---
Workshops:
Investigative journalists from Sub Saharan Africa region, March 2018, a workshop at Stanford for investigative journalists from Sub Saharan Africa region, Lesotho, Malawi, South Africa, Swaziland, Uganda, Zambia, and Zimbabwe, wanting to use investigative journalism tools to promote government accountability and combat corruption.
Data/investigative workshop for IVLP program, February 2017, a data/investigative workshop for U.S. Department of State's International Visitor Leadership Program (IVLP) Investigative Journalism – Armenia, Bangladesh, Bulgaria, Chile, Czech Republic, Guyana, Hungary, India, the Republic of Kosovo, the Kyrgyz Republic, Liberia, Macedonia, Malaysia, Maldives, Mexico, Montenegro, Nepal, Slovakia, Switzerland, Tanzania, and Thailand.
Multimedia workshop for Georgian journalists, June 2016
Multimedia workshop, May 2016, a multimedia workshop for journalists from Central Asia – Kyrgyzstan, Kazakhstan, Tajikistan, and Uzbekistan.
Innovation in media workshop, April 2016, an innovation in media workshop for the U.S. Department of State's International Visitor Leadership Program (IVLP) – Digital Communication Network.
Hack & Hackers Connect, San Francisco, January 2016, journalism entrepreneurship
JSK workshops, (2015-) various innovation sessions, design sprints, and media entrepreneurship workshops.
---
Alabama Media Group training
In the summer of 2014, trained AL.com reporters to develop data-driven stories and explore ways newsrooms can transform local beat coverage while tackling larger investigative and enterprise projects. Three weeks long training included: intro to data journalism and data reporting, advanced search methods, data mining, data analysis, Excel/Google Sheets, basic web scraping, Fusion Tables, and data visualizations sessions.
---
The Center for Investigative Reporting in Serbia – CINS training
Founded Serbia's first investigative nonprofit in 2006, called CINS, by teaching data and investigative journalism workshops to motivate young journalists to produce data-driven investigative stories, some of which went on to win awards. I taught investigative reporting methods, freedom of information methods, advanced internet search, data reporting, data mining, and data analysis. Five years after starting, I had trained more than 200 young journalists in Serbia, and about 100 journalists internationally. A selected group of the trainees became the first staffers at the organization, and they are still running it now. Many of them cover important stories for top news outlets in the Balkans; some of them went on to win journalism awards.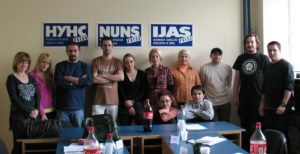 Online:

Data Journalism 101
Data Research Methods